Sit back........
.......take the weight off your feet, and relax with some tasty treats in the comfy surroundings of Morag's Milk Bar.
Her everyday menu includes baked potatoes, toasties and all sorts of breads, complemented with a generous range of fillings and fresh salads. Then there's the famous homemade soup, homebaked scones, and a mouthwatering array of cakes and sweets..
An ever-changing programme of seasonal specials uses the best of local produce, with salad and vegetables picked freshly from our own garden. The imaginative menu encompasses both simple affordable snacks for smaller children and special indulgences to celebrate a special day out. Morag also masterminds our seasonal shepherds hut and ice cream kiosks.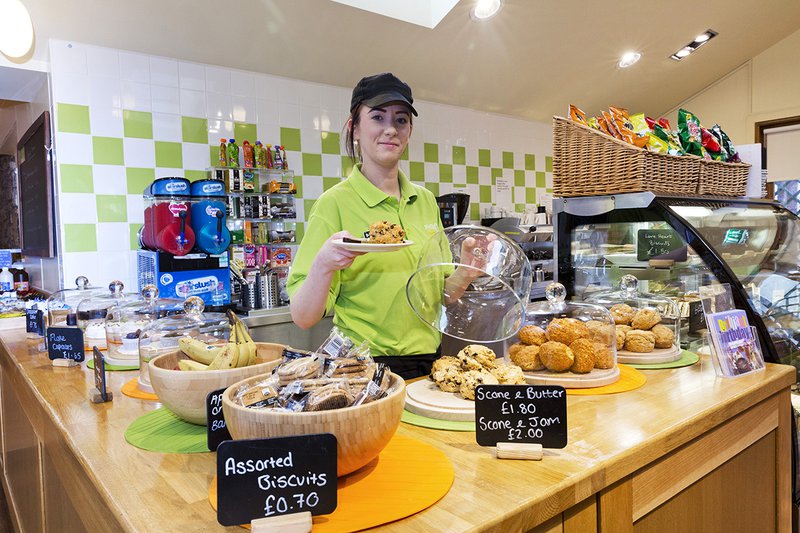 Our menu features loads of tasty snacks and light meals, including our homemade soup of the day. There are toasties, panini, and baked potato with a huge choice of fillings, plus a range of top quality burgers, which come with salad and oven-cooked chips. Children have their own menu of tasty nibbles. Enjoy a lovely cup of tea, or a warming coffee to accompany your choice from a tempting range of tasty cakes and sweeties.
Download a typical menu - this may vary a little with the seasons and there are often additional special dishes. You'll find a big range of options for those with vegetarian tastes or special dietary requirements, and you can check our allergen checklist.
Meet Morag,
Our Executive Chef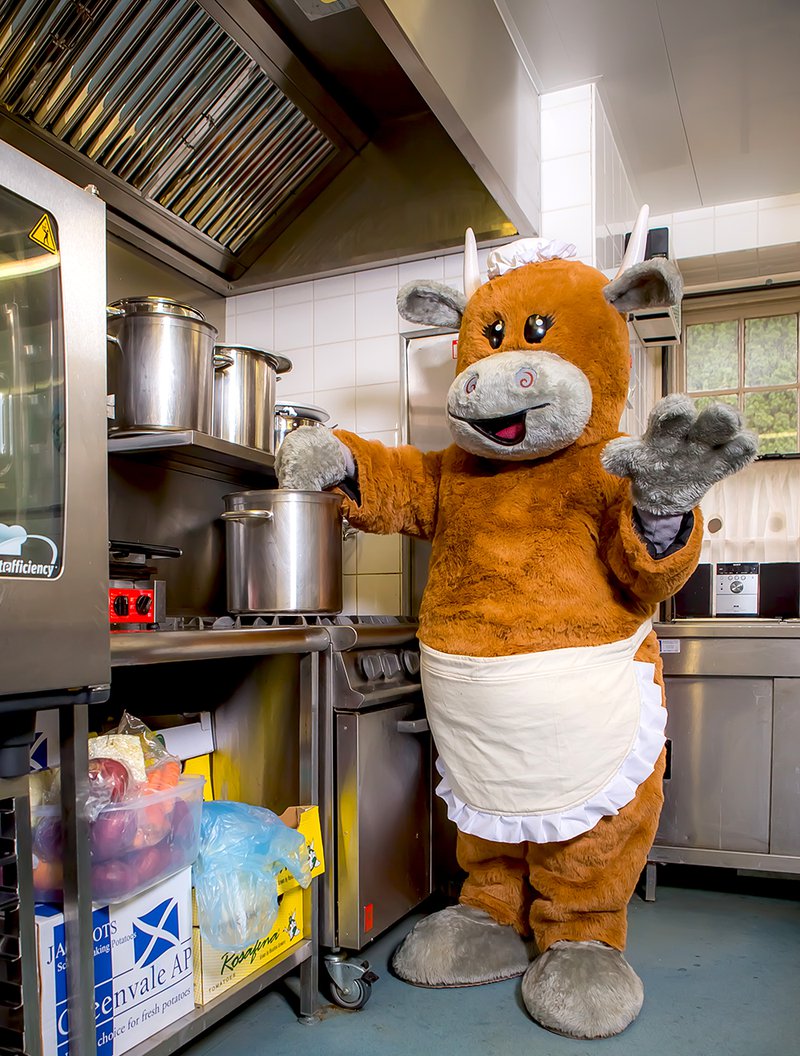 You may not meet Morag when you visit the tearoom, but she'll be busy behind the scenes, making sure that everything runs smoothly in the kitchen. This mistress of the culinary arts selects only the finest and freshest ingredients to prepare tasty and nutritous dishes that fuel-up hungry children
This highly talented and most unusual Highland cow has more Michelin stars than Kwik-Fit, and one made-up visitor to Almond Valley recently remarked:
"Her ice cream sundae could last me 'til Monday and I could eat her chips with curry sauce 'til the cows come home"
Everything in the Garden is Lovely...
.. and in the polytunnel and the orchard too, where a wonderful range of fruits and vegetables are lovingly cultivated. This seasonal produce is served fresh (or submerged in soup) in the tearoom, used for making jams, jellies and chutneys, or sold in our shop.