Explore the Shale Oil Museum
Our main museum tells the story of Scotland's shale oil industry, and how it shaped the life of West Lothian for almost a century.
Discover fossils of strange creatures that live when oil shale was formed, or venture down a mine tunnel to see how shale was mined. You'll find big machines, delicate models, exquisite oil lamps, and a huge variety of other objects that illustrate how shale oil was made, and used. You'll uncover stories of families who served the shale industry; their tough lives, and their resilient communities.
Elsewhere in the main museum there are relics of other heavy industries in West Lothian, and displays that explore many other aspects of local life.

Behind the scenes, we care for a nationally important museum collection that illustrates all aspects of Scotland's shale oil industry. We also hold the archive of surviving shale company records, and a library of photographs, postcards, and plans. Much of this brilliant resource for industrial, local or family history can be accessed on-line through our museum website; www.scottishshale.co.uk
Take a Virtual Journey through the Shale Oil Museum
Livingston Mill and Farm
Many of the solidly-built stone buildings of Livingston Mill date from the 18th century, and for many years lay at the heart of the local farming community. The produce grown on many local farms was once brought to the mill for grinding into flour and meal, using mill machinery that was powered by the River Almond. Water from the river was conducted along a mill lade from a weir about 600 yards upstream to turn a breast-shot water wheel.
The mill fell into disuse shortly after the second world war, and by the 1970 many mill buildings, and those of the associated farm, were in a ruinous condition.
.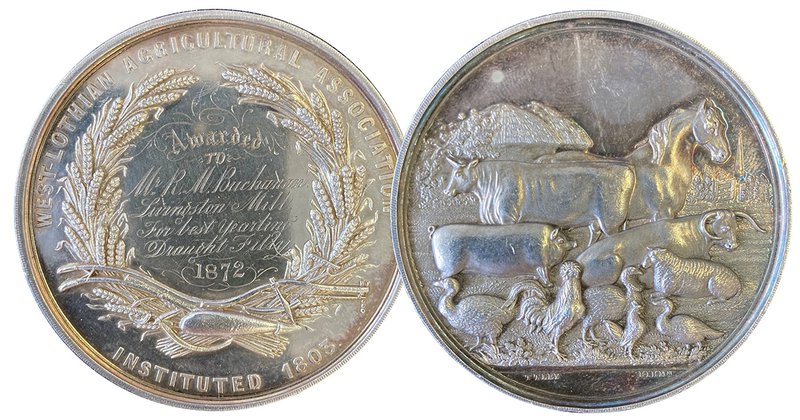 Silver medal won by Robert Buchanan of Livingston Mill Farm in 1872