Summertime Explainers
We're recruiting folk to develop and deliver simple activities that engage and entertain visitors to Almond Valley. During the course of the summer holidays we'll be running Summertime Discoveries; a daily programme of informal activities and demonstrations that families can join in or leave as they wish during the course of their visit. Most sessions take place outdoors and might involve animals on the farm, our vegetable crops, our woods and green spaces, or relate to our museum collections. Activities will be simple, satisfying and suited to primary-age kids, often involving easy crafts, observations, stories and experiments.
We're looking for people who are good with people, and find it easy to communicate their insight and enthusiasm to younger visitors. They will be practical, empathetic and engaging, with the necessary confidence, presence and communication skills. They are likely to have specialist interests, qualifications and skills in areas that will be relevant to the programme; but might be from a scientific or a creative background.
These fixed-term appointments will extend from mid-June until the end of August, with the expectation that candidates will be generally available throughout this period. An earlier commencement of duties might be arranged if appropriate.
A 40 hour week will be worked, five days in seven, @ £9.50 p/h or minimum wage. Explainers will prepare and deliver these public activities and attend to any other visitor service duty that may be required
Download application form, complete and send to jobs@almondvalley.co.uk
Join the team
We're a seasonal business, and our small core team grows each spring to meet the demands of the summer to come. Most seasonal vacancies are for visitor services, catering, and tidy team members.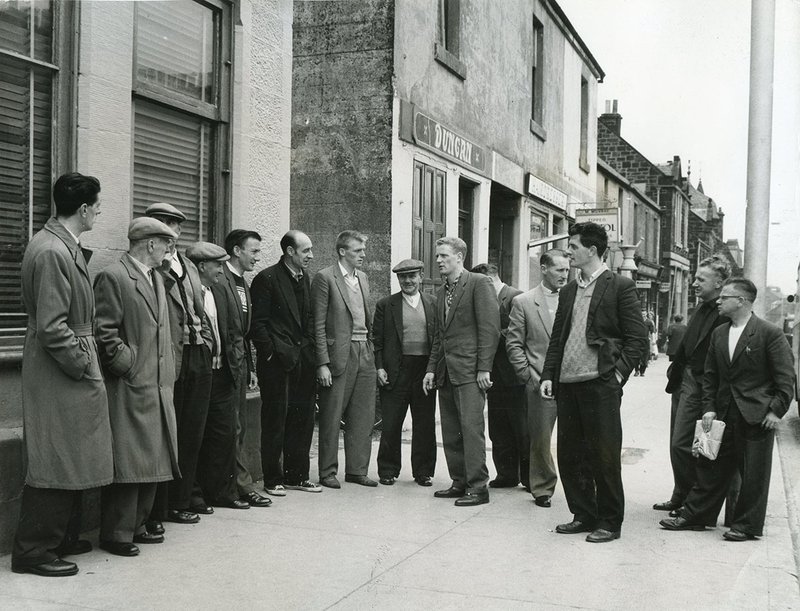 A group of redundant coal miners outside the labour exchange in West Calder. LVSAV2013.053